Hello world,
So once in a while, like I mentioned before, I'll put some old pics...an oldie but goodie :-)! Hehe. I don't know if you feel me when I say this, but don't we all go through phases of style? I know I sure did and it either depended on the season...mood...or the situation. So fashion is like a roller coaster ride haha. I gave you a peek of the short hair I had before and it was symbolic to me. It gave me a sense of freedom, like in a way cutting my long hair before made me shed off some "old skin" or rather it helped me gain back my pride in who I was. I guess in a corny way it helped me bring "my sexy back" lol. With that said, I don't want to get emo on you guys haha but I'll be sure to post some of my short hair-do's and old outfits of my past.

For now, I just wanted to share this one jumper I wore on a beautiful day here not that each day is not a beautiful day, it's just that the bay area is always either foggy or cold :P. It's not the most unique...sort of plain but I enjoyed wearing it for that day lol. You could kind of guess where I was hittin' up some shopping that day hahaha.

grey top-$5.99 Ross, Black Jumper-F21 $18, Black bag-$19, Black booties-$9
So look what I find inside Marshalls:

A human sized Hershey bar lol! YIKES! I think it was like $30. Imagine eating that thing haha umm no thanks right. 5lbs of chocolate is wowage...I wonder how that settles in your tummy. Plus I wouldn't buy any edibles at stores with discounts...I mean if food is discounted...the only thing that would come to my mind is either 1. its old or 2. it's on sale for a reason haha.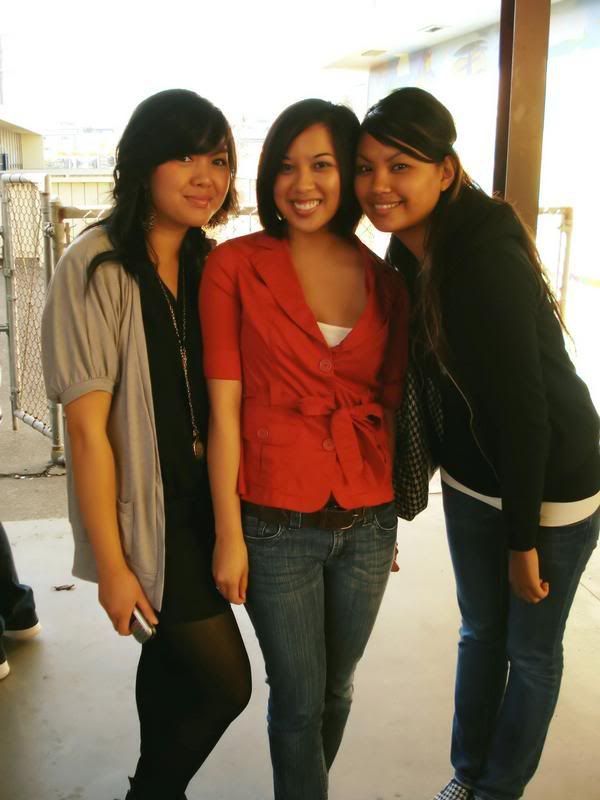 So from left to right: Moi, my BFF/seester, & my Illo sis.
I love these girls...I didn't disclose to them that I'd include them publically on my blog, but hopefully they won't mind haha. I know hunchback me right? Eh I just need work on my posture.

Okay, I know I mentioned that I was getting a hair cut...and I did. I'll post my new do soon. Not so much of like a drastic change but a little more umph for my hair now :).

Okay ladies & gents. Tata. Ciao! Cheers! Lol no biyees because like Arnold "I'll be bak"

God bless folks.

God is good, all the time!